Canon imagePRESS C9010 VP from 2021 incl. Stacker H1, Bros finisher
Kronprinzenstr. 54, 40764 Langenfeld, DE
We currently have a brand new Canon imagePRESS C9010 VP from 2021 incl. Stacker H1, Bros finisher on special offer (ready for use immediately). The color production machine can be inspected at our warehouse in Langenfeld and can be picked up and shipped worldwide. Our consultants will provide you with the best possible information and will be happy to make you a non-binding offer.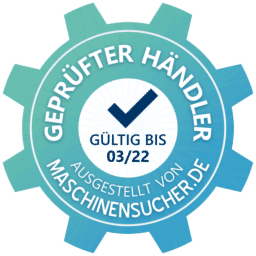 Machine Type: Color production machine
Model: Canon imagePRESS C9010 VP from 2021 incl. Stacker H1, Bros finisher
Condition: Very good (used)
In this offer you acquire a used colour production system "Canon imagePRESS C9010 VP".
Item for sale:
1 x Canon imagePRESS C9010 VP with the following equipment:
incl. Prisma Controller
incl. booklet finisher N2
incl. High Capacity Stacker H-1
incl. POD Deck D1
Meter readings:
Total: Approx. 1,880,920 pages
Condition:
This offer is for a used device, which may show signs of use (minor scratches or yellowing).
The machine has been tested for function. A test printout can be seen in the photo.
Packing and shipping:
You are welcome to view the unit during our business hours. Please make an appointment!
Seaworthy packaging and worldwide shipping available on request!
Before shipment or collection, a function test will be recorded on video for you.
For more information, you can of course also contact us personally.
Kopier-Welt GmbH is Germany's leading partner for new office technology

Modern office communication that is environmentally friendly and inexpensive. For all this and more, there is the copier world. For more than 25 years, kopiererwelt has been the contact when it comes to new copy systems of all kinds. Whenever a new copying system or a high-quality printer is required, the world of copiers knows what to do. Our devices are all workshop-overhauled, tested and cleaned, so almost like new. At kopiererwelt you will find a wide range of copying systems from all leading manufacturers, so that there is something for everyone. Furthermore, one of our main focuses is on the topics of environmental friendliness and sustainability. At the same time, this was also the reason for founding the copier world. Why throw away devices when you can recycle them and protect the environment at the same time? In addition, it was clear from the start that customer friendliness is particularly important to us. Since the foundation, we have been able to constantly expand our service area and adapt it to the needs of our customers. This is also one of the pillars on which the company stands. The copier world has the right devices in stock for all needs and even if you are not yet sure which device is suitable for you and your request, we will of course be happy to advise you.
All from a single source
One of the biggest advantages of the copier world is that you get everything from a single source. No annoying back and forth with different parties, be it for delivery, be it in terms of service or anything else. Copier World accompanies every single step from ordering to delivery to on-site installation.
Future-oriented solutions for your requirements
The time we live in makes it necessary to look to the future. This also applies to the field of office communication. This means that in addition to the classic elements of every office communication (printer, scanner, copier) modern and future-oriented solutions are increasingly in demand. Although the "paperless office", which was a topic as early as the 1970s, is still an integral part of everyday work, digital solutions have increasingly found their way into our offices. E-mails, networks, Sharepoints, in short the digitization of office communication, has become an integral part of today's and certainly also future working world and the need for copier systems that can cope with this is constantly increasing. Therefore, you can also get such devices from the copier world that enable flexible office communication that takes the digital age into account.
Of course, being future-oriented also means that what is probably our biggest problem, climate change and with it nature conservation, must be taken into account. The protection of the environment is also actively pursued by the copier world. The way to the "green copier" is the required goal.
Fast deliveries and sustainable service
Another sign of the times we live in is flexibility and speed. Everything has to go faster. This applies to both delivery times and service. Gone are the days when delivery times of up to a week were the norm or long waiting times were accepted when there were malfunctions and problems with your copying system. The copier world is also aware of this fact and avoiding such delays is one of our main goals. Thanks to our nationwide fleet and a fleet system that meets modern requirements, we are able to supply you within a very short time. Of course, this also applies to our service. Regardless of the type of communication, we are always available and are at your disposal in the long term, i. H. also available beyond the order and delivery of our copying systems. Our technical support is ready for action at any time and rectifies any malfunctions and errors as quickly as possible and without long waiting times.

Request a non-binding offer now
Your data is SSL-encrypted and will not be passed on to third parties.